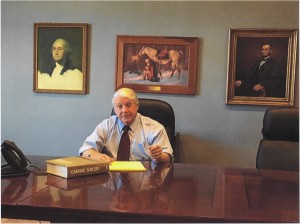 Wilbur McCoy "Joe" Otto is a graduate of Dickinson College and earned his law degree from the University of Michigan School of Law.  Joe was formerly Chairman and CEO of one of the largest and oldest Pittsburgh-based law firms, Dickie, McCamey & Chilcote, P.C.  He chaired the firm's Health Law Business Group and co-chaired the Medical Malpractice Defense Group.  While at the firm, his practice was focused on self-insurance, captive and RRG company establishment and the management of Hospitals and physicians for a number of community-based hospitals and assisted living centers in Pennsylvania.  He was the first attorney to utilize videotaped deposition testimony in the United States in both federal and state courts (1969-70).  Prior to joining the firm, he served as a Captain in the U.S. Army JAG Corps and as Assistant Professor of Law, U.S. Military Academy at West Point between 1961-1965.  While at West Point, Joe was asked to revise the regulations relating to the Academy and having had two daughters born at West Point recommended that admission to the Academy be opened to women.  His proposed revision was approved, and seven years later West Point led the academies in admitting women to the Corps.  Joe is admitted to practice in Pennsylvania, Washington, D.C. and before the U.S. Supreme Court.  He is a fellow in the International Society of Barristers and past president of the Academy of Trial Lawyers of Allegheny County.  He formerly served as Assistant Professor, University of Pittsburgh's School of Health Professions.  He has also served as adjunct faculty member for the Trial Advocacy Institutes at the University of Michigan, University of Pittsburgh, and Duquesne Law School.
"I have had the high privilege and honor of practicing law in Allegheny County among a bar and trial lawyers who are among the most professional, dedicated, and skillful in the U.S.  I've helped to establish quality healthcare systems in Pittsburgh, with emphasis on patient safety, and helped to pioneer captive insurance programs worldwide to serve these systems.  I've also helped to accomplish peaceful resolutions among parish churches within the Episcopal Church of America.  Together with my great colleagues, we helped Dickie, McCamey and Chilcote to develop and grow into one of the nation's largest and best litigation defense and healthcare service firms."
More recently, Joe authored a book entitled, "Resurrection, Fact or Fiction:  A Trial Lawyer Looks at All of the Evidence," published by Westbow Press and available from Amazon.com.
Joe has eschewed retirement and now maintains a busy solo practice at Otto Law Group, LLC, where he is assisted by two of his four children (all four children — two boys and two girls — are licensed attorneys).  Otto Law Group, LLC maintains a presence in the Western Pennsylvania, Lehigh Valley, and Lancaster/Reading regions of Pennsylvania, focusing on the areas of personal injury, medical malpractice, family law, estate administration, trust formation, business contracts, marcellus shale.  He is also qualified to serve as a federal mediator.
Joe is a Million Dollar Advocate and has earned an esteemed 10/10 rating on AVVO.